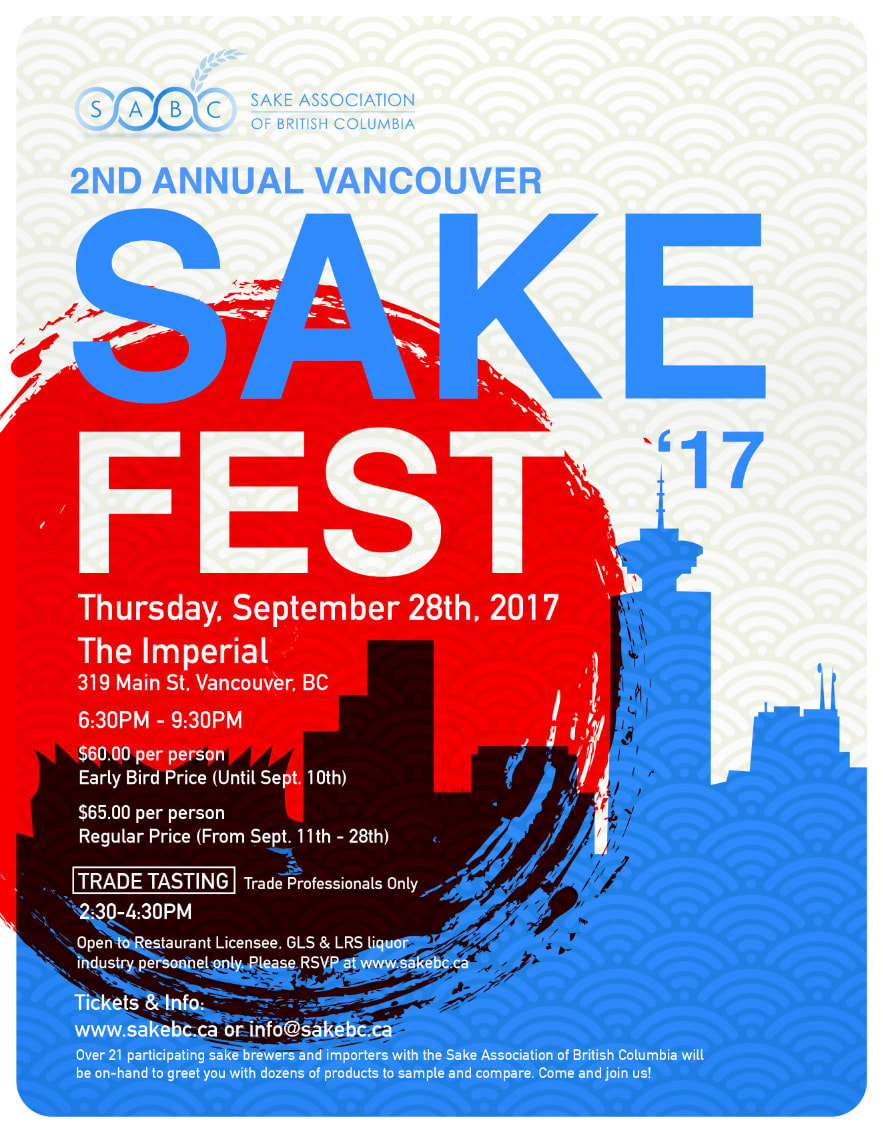 ENGLISH BELOW↓
昨年好評だったバンクーバー酒フェスタが今年も開催されます。
私たちも参加しているSABC(Sake Association of British Columbia )全メンバーが国内外の蔵元21社、100種類以上の日本酒や梅酒をご提供します!
イベント時間内は飲み放題なので、是非すべてテイスティングしてみてください。
日本の蔵元からも駆けつけてくださっているので、気になることを直接きく絶好のチャンスです。
The Sake Association of British Columbia presents the second annual Vancouver Sake Fest '17! The entire membership of the SABC will be present at this all-day event – which will include a trade portion during the day – to present products from over 21 sake brewers and importers from Japan, Canada and the United States. Over 100 Sakes of a variety of styles representing sake makers across Japan, Canada and the United States will be poured.
There will be many Sake Producers and Agencies on-hand to sample their various products as well as answer your questions!
This is a great opportunity for those working at the licensee, private retail or government liquor stores to sample hundreds of sake, plum wine and a myriad of new products in a casual and relaxed atmosphere.
When:
September 28th, 2017
6:30PM – 9:30PM
[Trade tasting: 2:30PM – 4:30PM] Trade professionals only
Where:
The Imperial Vancouver
319 Main St, Vancouver, BC V6A 2S9
Ticket:
$60 per person [Early Bird Price (until Sep. 10th)]
$65 per person [Regular Price (from Sep. 11th)]
We look forward to seeing you at the show!
Patrons are reminded that this is an event for those of drinking age (19) and higher only.
For those in the liquor industry and are trade professionals, please see the link below for RSVP access to the Trade Tasting link or contact us.